What are the advantages of the reinforced wire mesh welding machine in use?
Views:7 Author:Site Editor Publish Time: 2019-12-28 Origin:Site Inquire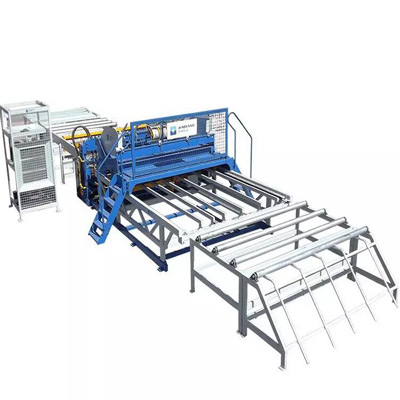 The reinforced wire mesh welding machine is a kind of high-strength, high-efficiency construction material for concrete reinforcement.The reinforcement mesh line is a sort of expanded metal mesh that's welded together by resistance spot welding in the least intersections through an automatic assembly line.
Improve crack resistance: Wire mesh welding lines are manufactured through strict calculations, and that they are precisely arranged again consistent with design specifications, then the complex crossbars are at the intersection of current, the whole net interval is neat and uniform, stress transmission is uniform, and therefore the load It are often evenly distributed on the whole concrete structure, which may prevent the occurrence of cracks. consistent with the particular test results, paving the road with steel mesh can reduce more cracks by quite 75%. Wire mesh welding line is formed of low carbon hot rolled wire through cold drawing or cold rolling. The lastingness of the wire is increased to quite 550 MPa, therefore the amount of wire are often reduced by quite 30%.
In additionally, thanks to the factory automated assembly line, the loss of the wire mesh is minimal. Improve production efficiency: the utilization of steel wire mesh can save construction site binding time (more than 70% of working time), facilitate the arrangement of subsequent concrete construction, and shorten the development cycle.
Improve project quality: Wire mesh welding assembly line is formed by an automatic assembly line in accordance with internationally accepted design and technology. the assembly process must be strictly controlled. Quality requirements like grid size and rebar specifications are often effectively controlled without field personnel constraints and misspellings or omissions, improving project quality.
The reinforced wire mesh welding machine is suitable for floors, floors, shear walls, pavements, bridge paving, culverts, dock floors, prefabricated components, etc. it'll be widely utilized in the development industry to enhance the industrialization level of rebar engineering and acquire good economic and social benefits.