Construction Mesh Panel Machine
Introduction and Applications:
1.This machine is used to produce wire mesh panel for diameter 3-6mm, both line wire and cross wire are pre-cut.
2.The finished mesh panel is widely used in construction, protective screening mesh and mine timbering.
Features:
1. Both line wire and cross wire are pre-cut, make sure the mesh panel evenness.
2. Adopt new type water cooling transformer, compared with traditional transformer, extend the working life.
3.Welding pressure from springs, compared with pneumatic system, it saves production and maintain cost.
4. Mesh pulling system is controlled by PLC, different cross wire pitch is available in one mesh panel, easy for operation.
5. Each transformer is controlled by micro controller, more smart for setting welding time and welding current.
Technological processes:

Construction mesh panel machine Technological processes.pdf
1.Line wire support shelf 2.Main welding machine 3.Cross wire hopper 4.CNC mesh puling cart
Detail Image: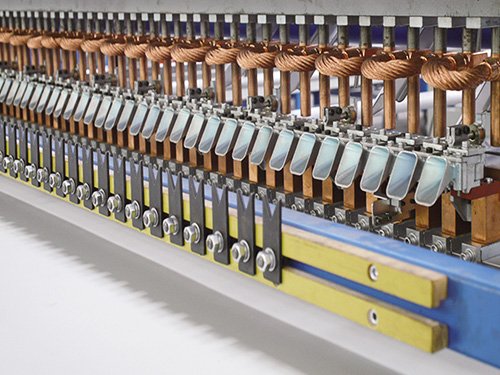 Electrodes without cooling water,good for wire 3-6mm Cross wire hopper with loading capacity 100kg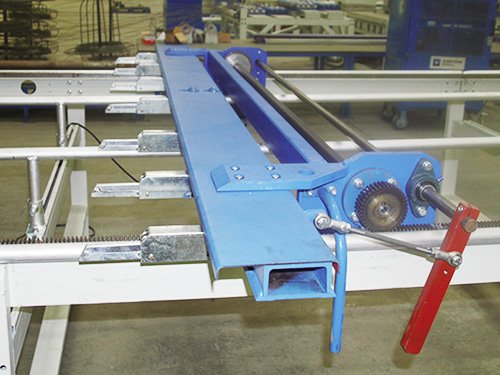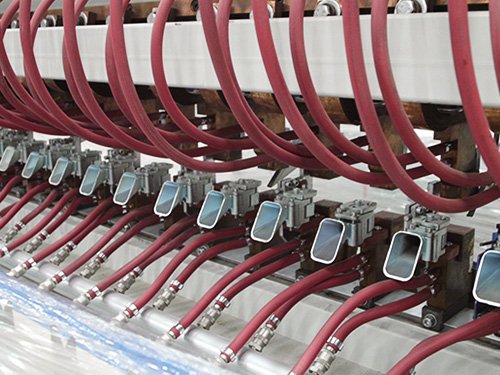 Mesh pulling cart with railway 6m,max.mesh weight 60kg Electrodes with cooling water,good for wire 3-8mm
Technical parameters:
Item

GWCD1200

GWCD1600

GWCD2100

GWCD2500

 

Number of electrodes

24

32

40

48

 

Max.mesh width

≤1200 mm

≤1600 mm

≤2100 mm

≤2500 mm

 

Wire diameter

3-6/4-8mm

3-6/4-8mm

3-6/4-8mm

3-6/4-8mm

 

Mesh length

3.5,5.5,7.5m

3.5,5.5,7.5m

3.5,5.5,7.5m

3.5,5.5,7.5m

 

Line wire space

50-200 mm

50-200 mm

50-200 mm

50-200 mm

 

Cross wire space

50-200 mm

50-200 mm

50-200 mm

50-200 mm

 

Electric capacity

≥160KVA

≥160KVA

≥160KVA

≥160KVA

 

Welding speed

60times/min

60times/min

60times/min

60times/min

 

Control system

PLC

PLC

PLC

PLC



Installation and training:
Our company is responsible for equipment installation and commissioning and after-sales service, and technical staff assigned to the scene to install the guidance and debugging work, and customer equipment operation and maintenance of on-site training.
Equipment maintain:

1.In strict accordance with the Jiaoyang provided equipment manuals for operation and maintenance.
2.In strict accordance with the requirements prepare the installation site.
3.Provide the power and water to meet the requirements.
4.Equipment should be used in the workshop, the working environment will directly affect the performance and service life of equipment.
Precautions for use:

1.Before use, check the power connection is solid
2.Welding machine shell must be grounded, the ground is not wet;
3.Adjust the secondary voltage according to the wire diameter, the power switch is turned on;
4.Do not touch the charged body to prevent shock and burn;
5.Check the welding head, spring, rod for damage and loose, timely recovery and repair;
6.After the end of each class to check the electrical control components are normal, such as damage should be replaced and repaired;
7.Mechanical transmission components damaged timely repair. Electrical control section as soon as possible with the manufacturer.
8.Do not open the control box when power is on, do not allow to touch the internal components by hand, to avoid electric shock
9.When checking the internal wiring and control panel wiring, be sure to cut off the power.
10.Do not touch the components inside the control panel, otherwise the components may be damaged.
11.The control box connected to the use of cooling water and ensure adequate flow of cooling water and pressure. Check the cooling system regularly.
12.Regularly (once a month) check the power box wiring.
After-sales service:
Equipment warranty for one year, part of the life of equipment maintenance procedures, wearing parts and electronic parts are not covered under warranty.
Equipment failure I will reply within an hour, the first time to the customer site for maintenance
After the warranty, our company provides lifelong after-sales service support, as well as preferential prices to provide equipment components.