Cage mesh welding machine manufacturer
Views:3 Author:Site Editor Publish Time: 2018-08-29 Origin:Site Inquire
Cage mesh welding machine product introduction:
1. Host control system: It adopts PLC programming control system for control. Its main program is concentrated in the main electric cabinet. The mesh size can be adjusted by adjusting the control touch screen of the host or the button of the host.
2. The whole machine is welded by standard steel. The main frame is firm and can be damaged for many years.
3, blanking system: horizontal wire blanking, manual feeding, stepping motor control automatic blanking. The vertical wire is used for feeding, and the material is recycled, no artificial twisting is required, and the welding wire diameter can be adjusted.
4, welding system: the use of high-efficiency transformers for welding, the production of mesh, solder joints are firm, the mesh surface is flat, the network face angle error is small.
5, pull the network system: the use of servo motor control, cycle pull the net, according to the practical situation, the production of suitable length of mesh products.
The main parameters of the cage mesh welding machine:
Welding wire through 2-4mm
Welded mesh width 1600mm can be customized
Number of solder joints 36 can be customized
Welded mesh 20-200mm adjustable
Transformer 100KVA*4
Welding speed 55-65 times / min
The warranty period of the cage mesh welding machine is one year. After the warranty period, our factory provides lifelong paid service. The one-year warranty does not cover damage caused by vulnerable parts and human factors. For special reasons, our factory can be repaired according to the situation.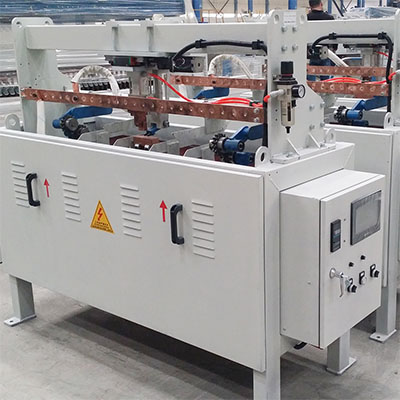 The cage mesh welding machine manufacturer has a large service scope and many large cities in the country. At the same time, the company has many excellent technical staff, which lays a strong foundation for the production and processing of welding net machines. Moreover, our company has strong strength and strong technical force, which provides reliable guarantee for the welding net machine. Our company has a strong technical team, good service quality and high reputation of production reputation, which effectively makes our company's service scope.
Further expansion, we believe that under such a production model and the trust of our customers, our cage mesh welding machine business will be more brilliant, and we continue to promote and promote all aspects of our company, increase our coal mines Nursing net CNC welding net machinery, CNC heavy-duty steel mesh welding machine, highway net column CNC welding machine, chain link net machinery, construction wire mesh welding machine, straightening and cutting machine, large-scale can wire drawing machine and other products sales To achieve a goal of increasing year by year.